BONUS TEXT – From the book ''Return to God I: Men and women
INDECISION
A man went into a shop. A beautiful girl was working there. When he saw her, he thought that he had never before seen such beauty. Still, he was not distressed. He had so many times seen before a beautiful girl, and none of them have noticed him. That man was intelligent and interesting, but he didn't have a good opinion about himself. Thus he couldn't have noticed that she liked him.
The girl was in love with him. Because of his insecurity, he kept her subconsciously at the distance. Much time passed by. That girl had survived lots of things inside her. He didn't know that. Very often she was quarrelsome with him because she was angry about his not paying attention to her. Due to that, he became even more reserved, even if he adored her.
The girl had many suitors. Nevertheless, she was experienced enough, so she realized that men were mainly interested in her beauty and curves. Thus she also didn't have a good opinion about herself, what the man whom she liked made even worse with his passivity.
She thought how intelligent and beautiful this man was. Why should he take interest in her, when she's not interesting, besides attracting playboys?
Thus she didn't assume that he liked her. The single thing two of them did – created an irresolvable condition in terms of clarification and relationship.
She already had a broken heart.
One day, the young man looked at her and it seemed to him that he saw love in her eyes. Then he thought to himself – Maybe she likes me? How's that possible? – However, she looked at him in that way because she had decided to give up on him and continue with her life.
She started avoiding him. Because of pain, she even had changed her job. They stopped seeing each other. She found someone, while he was suffering for a long period.
What's the point of this story?
Every person is exceptional at something. You are, too. There's no doubt. When someone is better at something from you, then accept the reality. Still, every person has equal value as a human being in God's eyes. No one has right to diminish or humiliate oneself. This two people from the example did that all the time, and they failed and were miserable all the time, although they were exceptional individuals.
The story I've told happens every day in the world, and for some people, it happens all the time.
Many women think that men are the one to make the first step. Still, exact the same women tease and seduce men in the incorrect way so that they would notice and make the first step. The one who wants something is to ask for it. It's certainly nice when you like someone and he/she recognizes it and makes the first step. Still, not all people have good observation and good intuition. You have to be straightforward with some people.
Therefore, if the people appreciated themselves, they wouldn't come into such situation. The question is: why happened that these two from the story had such destiny?
Because they are not persistent they have respect neither for themselves nor for others, and they don't have faith in God and true love. They're similar to those who: sting and run.
Many think that this is the man's trait. That's not the truth. Women are actually those that act in such manner. They sting the heart and run away.
And why they run?
Because they've forgotten that their place is next to the man they love. They think that it's good for the man to run after them. Afterward, they wonder, how come that they are used?
Well, they're used because they haven't chosen their man, and because they're neither honest nor faithful to them, and because they think that man should assume their wishes and wants, and yet make the first step. As if the first step of a man will recover their dignity?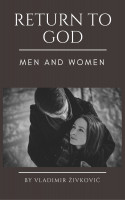 Return to God: Men and Women by Vladimir Živković